FAMILY TO FAMILY HEALTH INFORMATION CENTER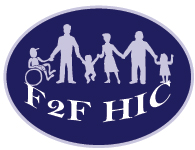 Family to Family Health Information Center at PTI Nebraska.
Working for families One by One,
…Community by Community,
…Partner by Partner.
Providing Healthcare information to families with children with special health care needs about health care, health care options and health care costs.
Helping families and professionals develop Individual Healthcare Plans for children with medical care needs at school.
Working with youth who are developing self advocacy skills so they can explain their health care conditions and understand their own health care needs.
This support to families, youth and professionals is provided by personal visits, phone and email.  Workshops are held across the state.
Nina Baker
Health Information Coordinator (Infants, Toddlers, School Age and Young Adults) and Family Voices
Nina Baker provides training, information and support to families who have children with special health care needs. She has worked at PTI Nebraska since 1993. Nina and her husband have two adult daughters. Their oldest daughter has Down syndrome and related, special health care needs and is living independently.
(402) 403-3908
(402) 346-0525
nbaker@pti-nebraska.org

"This project is supported by the Health Resources and Services Administration (HRSA) of the U.S. Department of Health and Human Services (HHS) under grant number and title for grant amount (H84MC08009, Family Professional Partnership CYSHCN, total $96,700, no other additional funds provided). This information or content and conclusions are those of the author and should not be construed as the official position or policy of, nor should any endorsements be inferred by HRSA, HHS or the U.S. Government."